about us
Cerulean Tower, a multi-facility, high-rise tower that is as open-minded as the culture of Shibuya,
and designed to be a hub of international exchange,
sharing information and cultural knowledge with the world, 24 hours a day.
Combining a luxury hotel, office space, a Noh theater, and more,
just a convenient 5-minute walk from Shibuya Station.
A tranquil and elegant space, in the heart of Tokyo.
Parking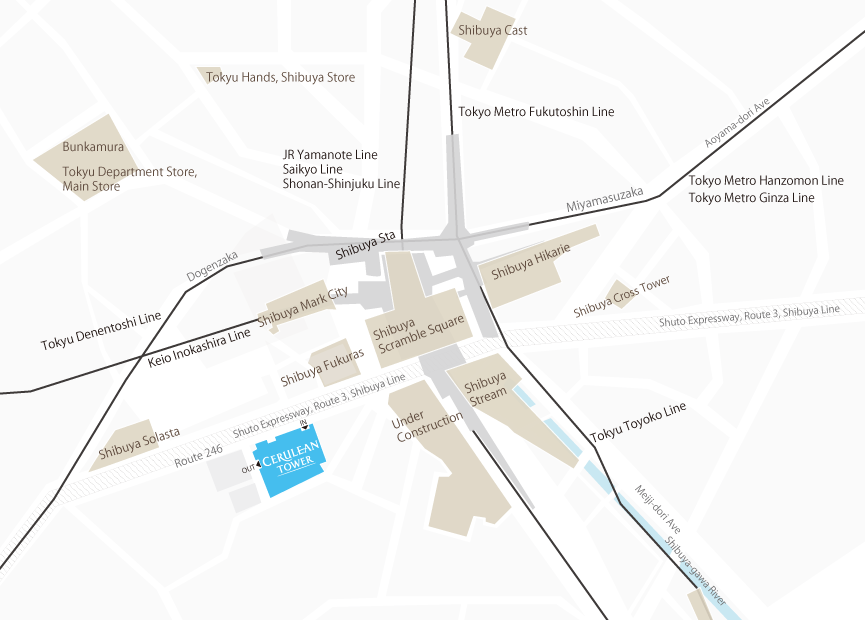 Along Route 246,
5 minutes from the Shibuya Exit of the Shuto Expressway.
Location
B3 & B4 Level
*Wheelchair-accessible parking spaces are available on the B3 level.
Operating Hours
24 hours a day, year round
Parking Fee

Daytime:

6:00-24:00 500 yen / 30 min.

Late Night:

24:00-6:00 200 yen / 30 min.

Maximum Charge:

4,000 yen / 12 hours

Vehicle Restrictions

Height:

2.3m (in some cases 2.1m) or less

Length:

6.0m or less

Width:

2.0m or less

Weight:

4.0t or less

Payment Method
Cash only
*There are payment machines on the B3 and B4 levels.
*Parking is free for up to 15 minutes after payment. Additional fees will be incurred thereafter.
*Credit cards, smart transport cards, etc., are not accepted.
Inquiries
Cerulean Tower General Management Office
TEL: 03-3477-6459
(9:30-18:30, excl. weekends & public holidays)
Inquiries about Monthly Parking
TOKYU LIFIA CORPORATION
TEL: 03-5797-2122
(10:00-17:00, excl. Wednesdays & Sundays)
https://www.tokyulifia.co.jp/parking/monthly/232
Motorcycle and Bicycle Parking
There is no motorcycle or bicycle parking available in the building.
Please use motorcycle or bicycle parking in the surrounding area.
Discount Parking Vouchers
Hotel guests
1 night (24 hours): 4,000 yen
Restaurant, lounge, bar or shop patrons
Guests with parking fees of 3,000 yen or more will be provided with a 2-hour discount voucher.
Please present the voucher when paying.
Banquet and wedding reception guests
Please contact the Banquet Reservation Salon (on B1).
(TEL: 03-3476-3524, 10:00-19:00)
*Parking discounts are not available for patrons of 7-Eleven or the Noh theater.